The National Oceanography Centre (NOC) has entered into a two year Knowledge Transfer Partnership (KTP) with Marlan Maritime Technologies Ltd to develop innovative remote sensing services for the survey of intertidal zones.
The partnership builds on the existing collaborative R&D between Marlan, the NOC and the University of Liverpool which included a successful ERDF-funded collaboration as part of the University's Centre for Global Eco-Innovation (CGE) and resulted in a technique (previously prototyped by the NOC's Paul Bell being validated and refined by the Marlan sponsored CGE researcher Cai Bird during his PhD) being patented. The new project will see NOC's Dr Paul Bell and KTP Associate Dr Cai Bird work with Marlan over the next two years to develop and then test new techniques that will ultimately provide improvements to the quality and efficiency of delivering data services to the coastal engineering industry. These services will enable more cost effective monitoring, design and construction of coastal and maritime infrastructure.


The data is collected by Marlan using its remote sensing platform which includes a standard ship's radar to visualise the location of the 'waterline' between wet and dry regions. The rise and fall of the tide and consequent movement of the waterline is used to build up a three-dimensional map of the coastline covered by the tidal ebb and flow – the intertidal areas. This is an old idea dating as far back as World War One using aerial photos, brought right up to date using radars and newly developed robust software algorithms. This allows new maps of the intertidal beach areas to be produced automatically every couple of weeks, and those maps show how the coastline evolves over time. Beach surveys are difficult and expensive to produce, so are rarely performed routinely, and never at the rate this system can achieve. These evolving maps show how and when beaches change; providing the information needed for the management of key stretches of coastline or erosion hotspots.


The services are expected to appeal to the UK's 50 coastal councils, as well as, for example, operators of ports, coastal power stations, desalination plants, transport infrastructure, sewage treatment works, coastal engineering consultancies, research groups and military sites. The patent also covers Europe, Australia and the USA, and so an additional 1.1 million km of coastline can be considered for potential sites.


Alex Sinclair, Managing Director of Marlan Maritime Technologies Ltd commented "Currently, we can offer this service to just a handful of customers a year, but by the end of the project we expect to be able to meet the needs of potentially hundreds and then thousands of users worldwide. Everyone we talked with is excited at the prospect of having data like this which will provide deeper understanding of the processes acting in complex coastal domains. We are delighted to be providing this information, which is such a valuable tool for protecting people, places and profits in maritime environments."


Kevin Forshaw, Associate Director, Innovation and Enterprise at the NOC commented "The NOC is confident that this partnership will see the benefits of coastal knowledge transferred from the science community to UK industry, and probably beyond, for the good of all coastal communities."
 Dr Paul Bell added "The ability to conduct intertidal beach surveys every couple of weeks using a robust and automated remote sensing system will provide an unprecedented window on the way key areas of coastline respond to storms, recover in calmer weather, and evolve following any coastal engineering works. This Knowledge Transfer Partnership with Marlan will massively accelerate and facilitate the shift of this cutting edge development from the realms of a research project to a fully-fledged commercial service."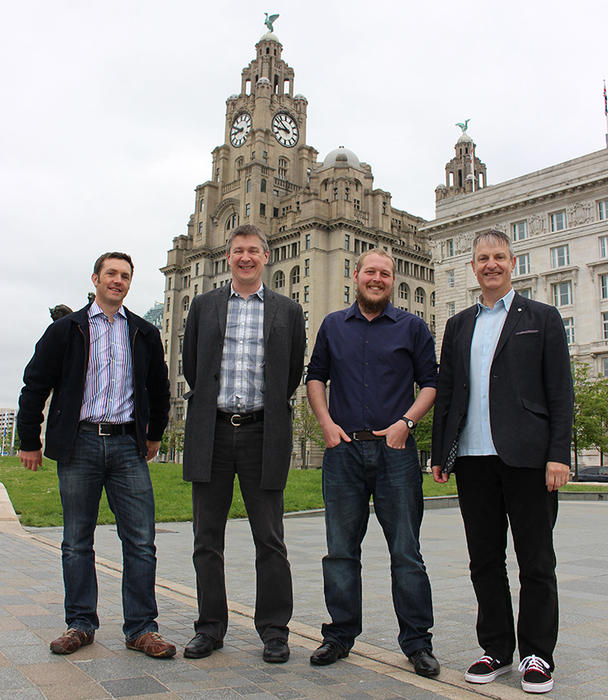 Prof. Andy Plater, support academic on the KTP from the University of Liverpool, emphasized, "Our success is down to the close research collaboration between the University of Liverpool, NOC and Marlan that emerged from our Centre for Global Eco-Innovation. The KTP will enable us to further develop the outputs of Cai's PhD research, and is a great example of the commercial and societal impact that can be achieved by connecting world-leading research expertise with the innovative thinking and inspiration of SMEs like Marlan."


NOC KTP Associate Dr Cai Bird added, "This knowledge transfer partnership represents an excellent and unique opportunity to see the direct implementation of our academic research into commercial systems. I am passionate about the potential for this technology to fill a crucial gap in the nearshore survey industry and look forward to developing and deploying radar survey systems over the duration of this project and beyond."
The project is being funded through Innovate UK following a successful joint bid application from the NOC and Marlan.
Event dates:
Monday 7 November 2016 - 12:00