National Oceanography Centre strategic business partner, Marlan Maritime Technologies, has secured the top prize in the 'Innovation' category at the prestigious Mersey Maritime Awards 2018, held earlier this month. This the second accolade for Marlan within the last year, following their success at the Merseyside Innovation Awards in July 2017.
The Liverpool-based company was selected as the winner for the Merseyside Maritime Awards for Synoptic, a product that combines cutting-edge science developed at the NOC with industrial expertise to provide a unique radar-based solution to coastal hydrodynamic and bathymetric monitoring. Using radar images of the sea surface, and data collected by sensors recording weather conditions, tidal elevations and vessel traffic movements in coastal areas, the system provides efficient and accurate nearshore monitoring which can be used by shipping businesses, coastal engineers and scientists.
Marlan Maritime Technologies create bespoke solutions for port and coastal vessel traffic management using a combination of radar and video remote sensing techniques. Their pioneering radar-based hydrographic survey service enables large swathes of the coast to be continuously monitored for erosion, storm impacts, migrating sand, changing sea surface currents and varying wave conditions. Alongside this, Marlan also carries out cutting-edge research and development to solve some of the most difficult challenges faced in the maritime sector.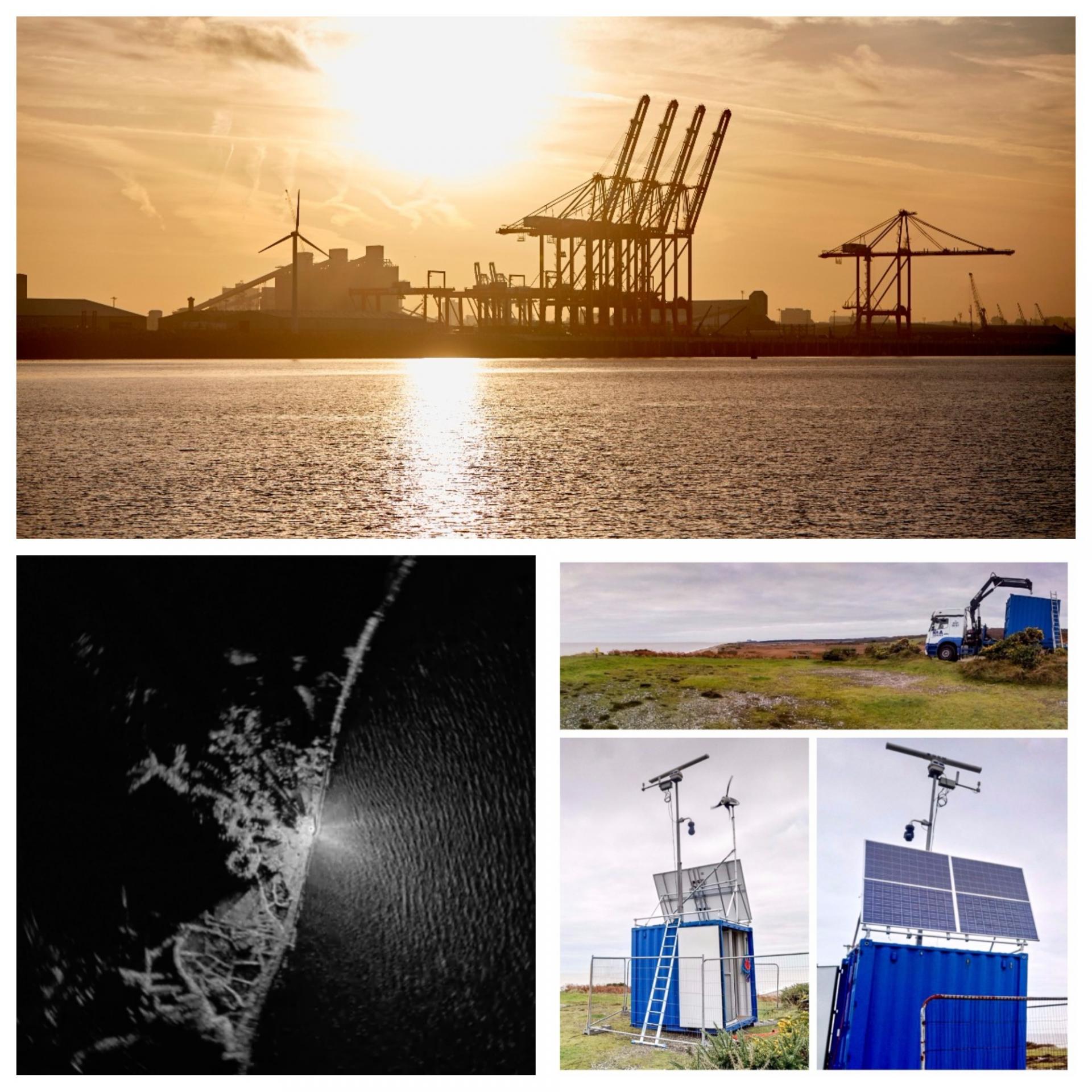 Shallow waters, beaches and sandbanks are traditionally some of the most difficult areas to survey and monitor as they change so rapidly and are often inaccessible to boats, or unsafe for personnel due to the restrictions of the tides. Yet, these coastal zones play a vital role in protecting our coastlines from flooding and erosion.
The science and technology required to effectively deliver Synoptic has been developed and refined over the last few years in Liverpool. A dynamic collaboration between engineers at Marlan Maritime Technologies, researchers at the NOC and scientists at the University of Liverpool have enabled the swift integration of cutting-edge science into robust, practical applications for local industry.
The first commercial deployment of the system was successfully completed at Crosby beach to monitor erosion from the 2016/2017 winter storm season. This deployment provided the local authority with a wealth of information on the vulnerability of the beach and highlighted potential areas which require more detailed investigation.
'Make a real difference'
Alex Sinclair, Managing Director at Marlan Maritime Technologies, said: "We are delighted to win yet another prestigious innovation award this year for our work helping coastal authorities, engineers, scientists and ports to better understand where sea meets land using our novel radar-based hydrographic monitoring service Synoptic.
"We&rssquo;ve been really excited to roll out this new service, developed in partnership with the NOC following years of research and development. It has already started to make a real difference to coastal authorities tasked with the difficult job of protecting our homes, businesses and infrastructure from the sea, and assisting coastal scientists to better understand the processes that drive coastal change.
"The new types of data Synoptic can provide, and the density of information these data contain, will allow our partners to make evidence-based decisions about how best to protect the coastline and we look forward to installing many more systems over the coming years."
The NOC is currently part of a two-year Knowledge Transfer Partnership (KTP) with Marlan Maritime Technologies. The KTP builds on the existing collaborative R&D between Marlan, the NOC and the University of Liverpool which included a successful European Regional Development Fund collaboration as part of the University's Centre for Global Eco-Innovation (CGE).
The NOC's Dr Paul Bell and KTP Associate Dr Cai Bird currently work with Marlan to develop and test software that will ultimately provide improvements to the efficiency of delivering products, services and data to the coastal engineering industry. These services will enable more cost-effective monitoring, design and construction of coastal protection schemes.
Dr Paul Bell commented: "The ability to conduct intertidal beach surveys every couple of weeks using a robust and automated remote sensing system is providing an unprecedented window on the way key areas of coastline respond to storms, recover in calmer weather, and evolve following any coastal engineering works. The current KTP with Marlan is accelerating this cutting-edge development from the realms of a research project to a fully-fledged, award-winning commercial service."
Find out more about how Marlan are delivering innovative maritime solutions that are achieving big results for their customers at their website https://marlan-tech.co.uk