The Story of Autosub
Autosub Long Range (ALR) a key technology to deliver EU Horizon 2020
International ocean technology experts from the UK, Cyprus, France, Germany, Greece, Ireland, Italy, and Spain are uniting to develop a range of new in-situ sensing, imaging and sampling technologies that will improve our understanding of the chemistry and biology of the ocean under a new project being co-ordinated by the National Oceanography Centre.
Funded by a €8.9M grant from the European Union's Horizon 2020 programme, TechOceanS – Technologies for Ocean Sensing - will pioneer five new sensors, two imaging systems, a novel sampler and an Artificial Intelligence-driven image processing methodology, all capable of robust operations at depths beyond 2,000 metres.
TechOceanS will actively engage with scientists, manufacturers, marine stakeholders and resource managers to target "Essential Ocean Variables" that currently can only be measured by observations from a ship. The new technologies developed in the project will enable the capture of vital, previously inaccessible data on the ocean's biogeochemistry, biology and ecosystems.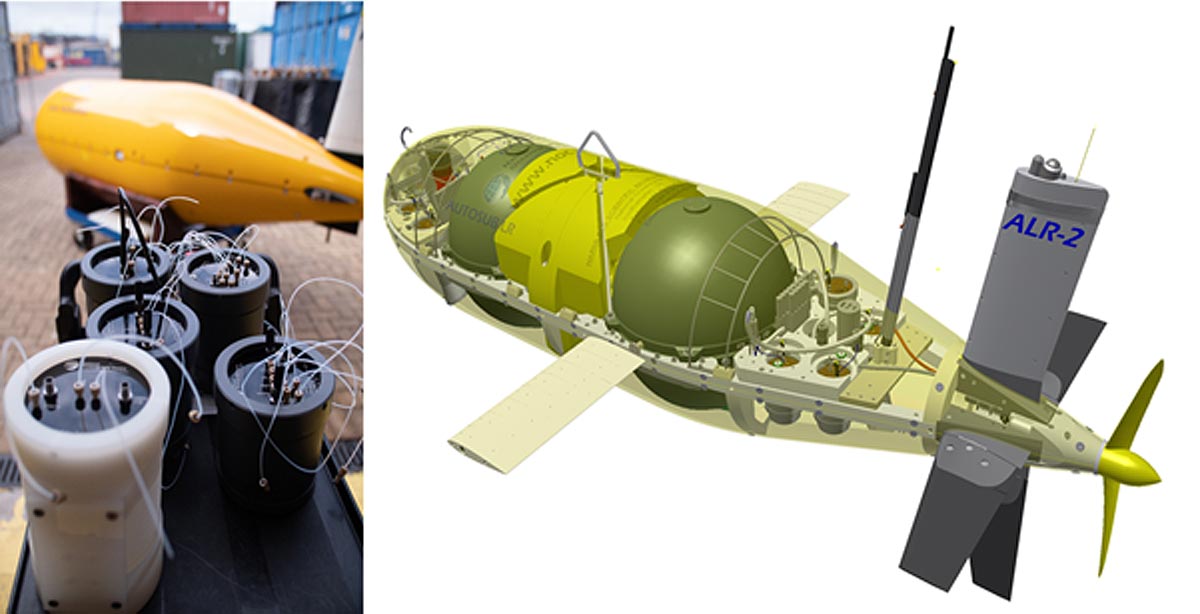 Left: photograph of Lab on chip chemical sensors in front of Autosub Long Range (ALR).
Right: CAD model showing Autosub Long Range with seven Lab On Chip nutrient sensors in the nose and four Lab On Chip and one electrochemical sensor for the ocean carbonate (CO2) system at the stern.
---