Date:
Wednesday 29 May 2019 -

14:00

to

15:00
Location:
NOC Liverpool - Nicholson Lecture Theatre (University of Liverpool).
Seasonal variability in the distribution and composition of dissolved organic matter (DOM) in shelf seas is driven by complex biogeochemical processes of production, consumption and remineralisation, as well as terrestrial inputs and physical transport. This carbon-rich and nutrient-poor pool stores up to 50 times more carbon than its particulate counterpart and can transport and store its compositional elements over large areas and on long time scales.
 By using the optical properties of DOM (absorbance and fluorescence) alongside key environmental indicators we can characterise its composition and likely source which enables us to track its journey across shelf seas over continental shelf boundaries and to the open ocean. Here, using samples collected from the Northwest European Shelf during the NERC funded Shelf Sea Biogeochemistry programme (SSB) and Shelf Wide Campaign, we focus on the results of DOM composition in the Celtic Sea using a combination of analytical tools, including DOM absorbance spectra and excitation emission matrices (EEMs), in conjunction with parallel factor analysis (PARAFAC). For a shelf wide view, we look at dissolved organic carbon and nitrogen (DOC and DON) concentrations across the shelf and focus on multi-year variability in the North Sea. We will also present annual and seasonal DOC flux estimates between the Malin Shelf, Celtic Sea and North Atlantic ocean.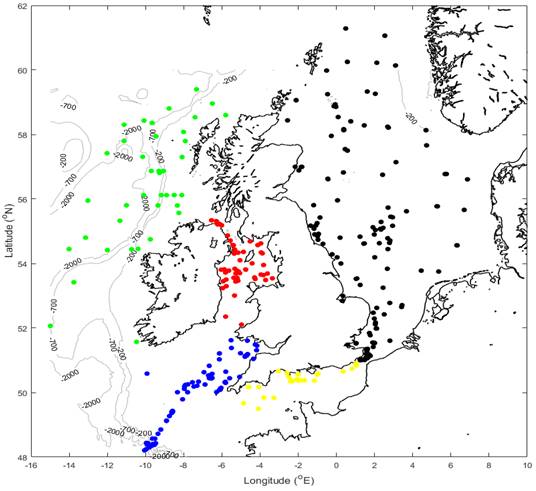 Stations sampled across the Northwest European Shelf during SSB cruises and the Shelf Wide campaign.