An entry from Alexander Hart our Irish Foreign Vessel Observer.
It's my responsibility to ensure that any research during JC062 that takes place in Irish waters (i.e., at Goban Spur) is done in an open way.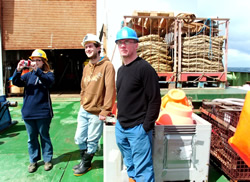 As I only recently graduated and as this is my first time working in such a capacity I was a bit nervous before joining the Cook that I would be a little out of my depth. However, my fears were allayed when I embarked in Falmouth and found both scientists and crew to be very friendly and welcoming. I got to work straight away setting up a filter rig for HPLC sampling of the ships underway seawater supply, which I worked on for the first leg with Denise Smythe-Wright and Diane Purcell (see previous blogs).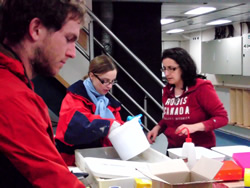 As I am from Cork it was frustrating that our port call was too short to disembark, but I was glad to see my girlfriend for a few hours, and as we left my Dad was able to track the James Cook online on Automatic Identification System (AIS), and then sailed out to get a photo of us steaming down the coast. As we watched Cape Clear fade into the distance, four common dolphins escorted us back out to sea.
The experience so far has been great, with time off spent cetacean spotting and getting boxing lessons from Brian, the ships steward. On the second leg I am doing some CTD casts for Denise, again for HPLC sampling, and also assisting with processing the megacore samples. It's fascinating to be working within such a large research team, both due to the diversity of the different projects within a common theme and also because of the sense of synergy as everyone mucks in together (literally!) to help each other out.
---