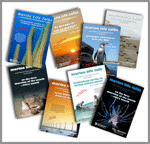 Marine Life Talks are on hold until further notice.
A series of monthly talks on marine conservation topics. These talks are open to the public and admission is free.
The Marine Life Talks are held on the first Thursday of the month at 7pm, please arrive at 6.45pm to be met in Reception. National Oceanography Centre Southampton can be reached via Dock Gate 4 (between Town Quay and Ocean Village).
Thursday 7 October 2010 -

19:15

to

20:30
7 October 2010 - X-ray and CT-scanning: 'from patients to polychaetes' by John Dinley and Dr Arnie Drury On the 8th November 1895, Wilhelm Rontgen discovered the X-ray. The developments of...
Thursday 2 September 2010 -

19:15

to

20:30
Fishing for sustainable seafood - 2 September 2010 - National Oceanography Centre in Southampton - 19:30pm - Jolyon Chesworth - Catching and eating fish has always been part of the fabric...
Thursday 1 July 2010 -

19:15

to

20:30
Deep sea hydrothermal vents – a journey to the Southern Ocean by Leigh Marsh and Laura Hepburn The discovery of chemosynthetic environments in 1977 is arguably one of the great...
Sunday 6 June 2010 -

19:15

to

20:30
Durlston Dolphin Project by Ed Harland Ed's talk will be a gentle ramble around the theme of the Durlston Dolphin Project from its inception in 1994 to the present day activities. The emphasis...
Thursday 1 April 2010 -

19:15

to

20:30
Only 30 years ago the Solent contained Europe's largest natural oyster fishery. Today the fishery has effectively collapsed and the oyster population is rapidly approaching commercial extinction...
That Oceanic Feeling – Rona Lee Thursday 27th September, John Hansard Gallery, University of Southampton (note venue) A Marine Life Talk with a difference takes place on Thursday 27 ...
Due to summer vacations, there will not be a Marine Life Talk in August and September. The Talks will resume on Thursday, 4 October.