Molecular biology facility
The molecular biology and microbiology facility are a set of Class 2 analytical labs set up to do molecular biology and microbiological culturing. We have a preparation lab that is kept amplicon free, set up to do DNA and RNA extractions of environmental samples. We also have a general microbiology and molecular lab with a range of equipment, from safety cabinets to qPCR machines and a MiSeq desktop sequencer.
Key equipment includes:
MiSeq desktop sequencer – allowing access to focused applications such as targeted gene sequencing, metagenomics, small genome sequencing and targeted gene expression.
Bench top and real-time PCR machines
Range of Class 2 and Class 3 safety cabinets
Range of water baths, incubators, fridges and freezers (including a −80°C freezer)
Calibration laboratory
The calibration lab is a temperature controlled space and is split into two parts, a small work area and a larger dedicated calibration space. The larger calibration space includes the range of equipment necessary for high quality temperature, salinity and pressure calibrations. The smaller work area is a more flexible space where sensor construction, testing and data review is undertaken. Both areas have a sink with a sea water supply in the calibration space.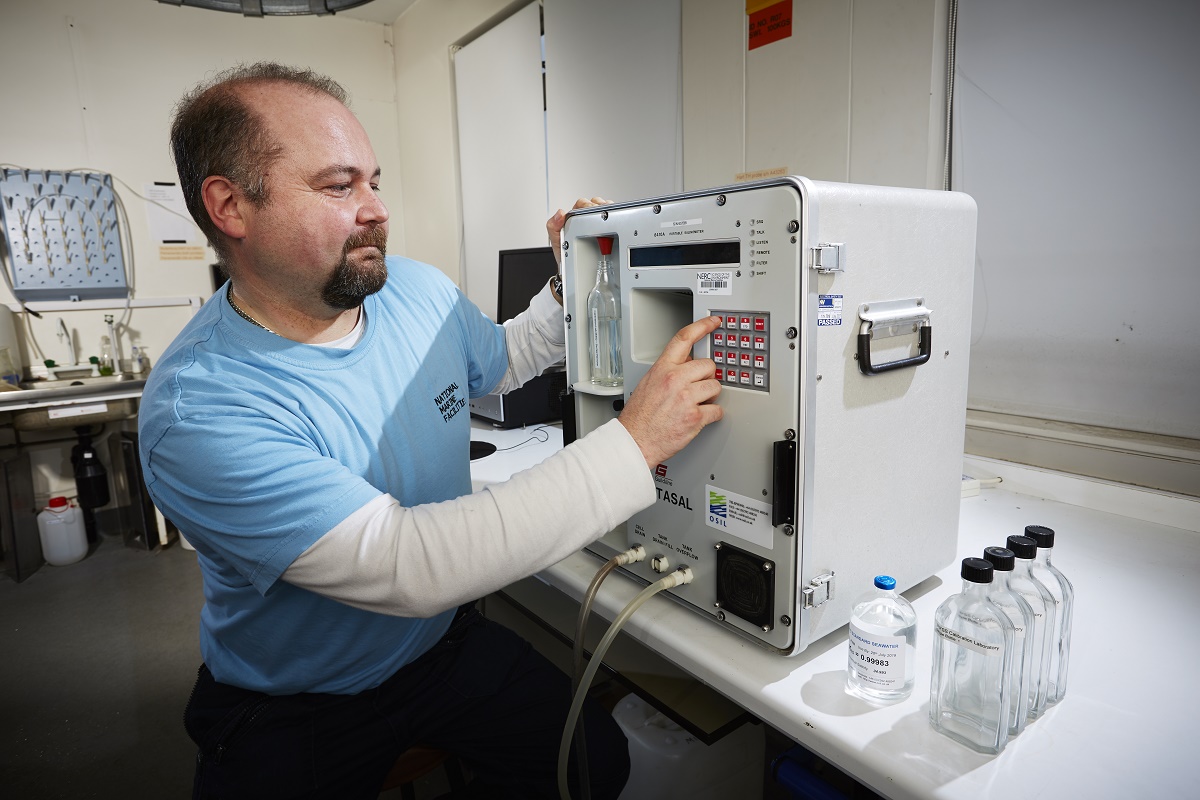 Key equipment includes:
Guildline Portasal
Fluke seawater calibration baths
Guildline 5010 seawater calibration bath
Gallium temperature reference
Mercury triple point reference
Water triple point reference
Budenburg dead weight tester
High accuracy and stability (± 2 mK) plain water calibration bath
Soldering station
Work desk
Rock physics laboratory
The NOC Rock Physics Laboratory (RPL) specialises in experimental studies of geophysical phenomena in marine sediments and rocks. Research undertaken in the laboratory aims to further the understanding of fundamental interactions between sediment/rock properties and their elastic and electrical properties.
Key equipment includes:
50mm diameter core plug rigs
We operate four 50mm diameter core plug high pressure (max. 60MPa) testing rigs, instrumented for measuing frequency-dependent P- and S-wave velocity and attenuation (0.1–1.0 MHz), Electrical Resistivity Tomography (ERT) and Electrical Resistivity Anisotropy (ERA). The rigs are temperature controlled (−10°C to 50°C) and can inject a range of pore fluids (air, water, brine, oil, methane, CO2 and mixed phase). The rigs can also measure sample strain and in situ absolute and relative permeability using various steady state and transient methods.
 
70mm diameter impedance tube
The impedance tube can accurately measure P-wave velocity and attenuation over the frequency range of many sonic logging tools (1–10 kHz). The 5m long impedance tube can accommodate 70mm diameter samples of hard or soft sediment up to 1m in length. The impedance tube is also instrumented with our ERT and ERA systems and is temperature (0–50°C) and pressure controlled (0–60MPa) enabling a wide variety of experiments to be performed, e.g., gas hydrate and carbon capture and storage (CCS) studies.