The NOC People Strategy has at its centre a vision of NOC as 'a great place to work where people succeed and deliver great work'.
NOC is using the Investors in People framework to review progress towards this vision and make improvements; and gained accreditation in September 2015, with very positive feedback from the Assessor. Working towards this has resulted in actions that have already improved management practices (acknowledged by staff) which will also feed into attaining better gender equality, through applying more consistent management practices across the organisation. Achieving the Athena SWAN standards for gender equality is also part of our strategy.
For Women in Engineering Day 2017 we published a series of career profiles which can be found in our Educational Resources. You can find out what exciting new career opportunities may lay ahead for you by seeing our Current Vacancies.
I am committed to the principles of the Athena SWAN and delivering the action plan which represents a moral and practical commitment to fairness and equality.
---
Angela joined the NOC in December 2016 as Director of Science and Technology.
Career Path
Angela is a microbial biogeochemist with interests in the role microorganisms play in the production and removal of environmentally significant trace gases. Before coming to the NOC she was Director of Research at the Scottish Association for Marine Science (SAMS) and previously held research positions at SAMS and the University of East Anglia where she held two Natural Environment Research Council Fellowships and obtained her PhD. Angela has participated in numerous seagoing research expeditions as part of international scientific programmes including OMEX, LOIS, ESCAPE and DISCO as well as field based studies in both the Arctic and Antarctic.
Support for equality and diversity
Angela is a passionate believer in the Research Council's Equality and Diversity Policy which states that "An organisation's success and competitiveness depends on its ability to embrace diversity and draw on the skills, understanding and experience of all its people." Angela translates this into everyday action as the NOC's Athena SWAN Senior Reporting Officer and is proud of the centre's ongoing commitment to the Charter, which supports retention, progression and recognition for all.

---
Natalie is Associate Director of Corporate Business Support, which provides a comprehensive, professional, seamless support infrastructure to facilitate the core business of the NOC.
Career path
Natalie received a BSc in Ocean and Earth Science from the University of Liverpool and an MSc in Oceanography from the University of Southampton. After graduating Natalie progressed through several roles with the Natural Environment Research Council learning how technical project support skills are essential to all successful funding applications and science expeditions. In 2013 she became the Head of Science and Project Support at the NOC and advanced to Associate Director in 2018 demonstrating her passion and commitment to the diverse teams of professionals enabling world-leading science and engineering.
Support for equality and diversity
Natalie says "I've received great support from mentors as well as development and learning opportunities during my time at the NOC. I aim to keep passing this forward and support other early career professionals to retain the great talent we have across the NOC. I'm committed to supporting a positive, equal and fair culture of practice and behaviour, allowing everyone to thrive and follow their desired career paths."
---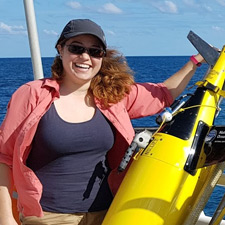 Eleanor is a physical oceanographer who uses ocean observations to investigate ocean dynamics and circulation in a changing climate.
Career path
Originating from Southern California, Eleanor enjoyed the beach and SCUBA diving, but didn't realise "oceanography" as a science existed until much later. It was during her first degree in maths when she had an opportunity to participate in a two-week research expedition off of Oregon that she began to look in earnest for ways to use maths in the marine environment. From there, she did a PhD in Oceanography at the University of Washington using autonomous underwater vehicles, then joined the NOC in 2009 as a researcher on the large-scale ocean circulation in the Atlantic. Combining her love of being on the water with maths and technical skills, Eleanor is an observational physical oceanographer —making measurements of the ocean using ship-based observations, autonomous vehicles and satellites.
Support for equality and diversity
Eleanor says "My field is traditionally male-dominated, but it is evolving, if slowly. I have benefited from mentorship from more senior oceanographers in the field, and greatly appreciate the supportive environment in my group and across the NOC."

---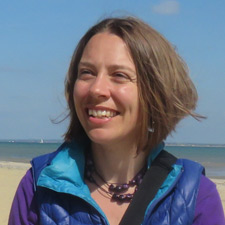 Jenny is a physical oceanographer, her research focuses on understanding coastal erosion and flood hazard to better inform coastal management decisions.
Career path
Growing up on the Isle of Wight Jenny had one goal in life – to live near and work with the sea. She studied Physical Oceanography with Maths at Bangor University and continued to do a PhD modelling sediment transport. She continued as a shelf seas modeller starting work in 2007 at the Proudman Oceanographic Institute, which in 2010 became the National Oceanography Centre. Jenny has worked on many different projects modelling shelf sea and estuarine processes as well as coastal impacts, such as beach response, shoreline evolution and flood inundation. In 2018 new opportunities allowed Jenny to take part in fieldwork and learn new skills in observational oceanography. So far Jenny's career has enabled her to live her dream – living by and studying the sea.
Support for equality and diversity
Jenny says "The diversity of working in research means every project is different and I'm always learning new skills and working with new people." She often takes part in school outreach and public engagement activities promoting STEM activities to the next generation. Jenny has mentored and number of students and staff and says "it's great to see others achieve new goals. These might be their first publication or first international conference presentation."

---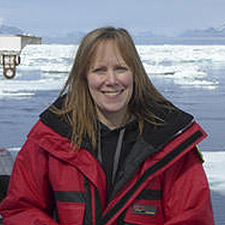 Penny is a physical oceanographer whose research centres on physical processes in the high latitude North Atlantic Ocean.
Career path
At 22 years old, after graduating with a Geology degree, Penny got a job with the Institute of Oceanographic Sciences, a predecessor of today's National Oceanography Centre. Here she worked as a junior science administrator for WOCE: an international project aiming to measure the entire world ocean circulation over the course of five years. In 1993 Penny joined her first science cruise and only a few years later decided to begin a PhD on the topic of interannual variability of physical properties and circulation in the subpolar North Atlantic. In 2002 Penny earned her PhD having worked on it part time for six years and it remains her research focus and passion.
Support for equality and diversity
In an article for 'Women in Oceanography' Penny outlined the positive changes which have been happening for women on board ship "On my first cruise, there were just two women in the 25-strong science team, and none in the ship's personnel. Cruises are very different now: on my 2014 cruise, half the scientists were women, and on a cruise in 2011, five of the six-member physics team were women."
Penny is a great supporter of encouraging more women into STEM subjects and is a fantastic role model for those thinking of a career in Oceanography. Penny says "The NOC have supported me throughout my career and when I had my children allowed me to work the flexible hours I needed. I did work part-time for 11 years but have recently returned to science cruises now my children are older. I have a great sense of job satisfaction and look forward to coming in every day."

---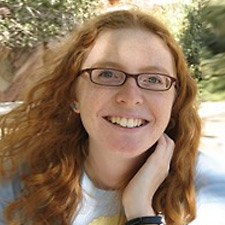 Stephanie Henson is a senior research scientist in the Ocean Biogeochemistry and Ecosystems division of the National Oceanography Centre, leading an active research group in global biogeochemical oceanography.
Career path
After gaining an undergraduate degree in physics Stephanie took a master's in oceanography, inspired by the applied aspects of the work and seeing the University of Southampton's research vessel! The next step on Stephanie's career path was a PhD, followed by postdocs in the US. The award of a NERC Fellowship brought her back to NOC, and she has since remained at the NOC in a full time position.
Support for equality and diversity
In an article for 'Women in Oceanography' Stephanie says "Having started out as a physicist, where I was only one of eight women in a class of more than one hundred, I was amazed to find during my PhD studies that there were so many female oceanography students." However, Stephanie recognises that within the scientific community there is still a way to go in increasing diversity at the top of many departments, committees and activities and is proud to be a role model as a senior research scientist at the NOC.

---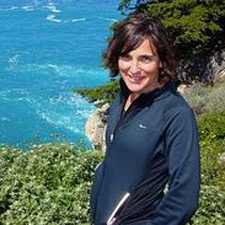 Julie is a molecular ecologist in Ocean Technology and Engineering leading a biosensor program focused on the development and application of novel technologies for analysing marine microbes.
Career
As an oceanographer, a wealth of diverse opportunities are within reach and as a result, Julie has visited deep sea hydrothermal vents, worked with cutting-edge instrumentation, contributed to ground-breaking discoveries in carbon metabolism and led a major research cruise north of Hawaii.
Support for equality and diversity
Julie says "My development as a scientist and a Principle Investigator at the NOC has been facilitated by direct mentorship from senior levels, giving me a unique advantage as an early career scientist. I love my job."

---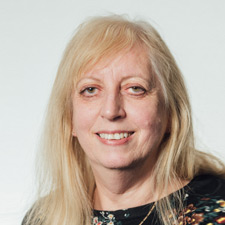 Judith is a Physical Oceanographer specialising in Shelf and Coastal Processes and Marine Systems Modelling as well as being the Head of Site at the NOC in Liverpool.
Career
After graduating from Bangor University, with a 1st class joint honours in Maths and Physical Oceanography, Judith started work at the Institute of Oceanographic Sciences (IOS) in April 1976. She was able to work for a part-time PhD, registered at Liverpool University between 1978 and 1984. Judith has seen many changes during her 40-year career with NERC, not least the IOS becoming the Proudman Oceanographic Laboratory (POL) in 1988, and part of the NOC in 2010.
Support for equality and diversity
Judith says "I have found NERC to be a great employer, allowing me the flexibility to have a career break from 1991-1994 to go sailing with my family. During this time I obtained a job at the Institute of Marine Affairs in Trinidad (1992-1994), setting up a physical oceanography group, teaching at the University of the West Indies and carrying out fieldwork around the coasts of Trinidad and Tobago. Returning to the UK I was re-employed at POL, part-time for a few years while my children were young, then full-time again from 2004.
Things have changed a lot from my early days when there were very few women in oceanography in the UK, I was often the only woman at meetings and conferences. I'm glad to see many young women now being very successful and confident in their role and status. I'm very happy to be leading the Athena SWAN Self-Assessment Team for the NOC, which aims to promote the recruitment, retention and promotion of women in STEMM subjects."

---
Margaret is a Principal Investigator at the NOC and her work is on understanding the physics of how the atmosphere and ocean exchange momentum, heat CO2, and other constituents.
Career
After her first degree in physics at London's Imperial College Margaret began work on a short-term contract at the Institute of Oceanographic Sciences (which later became the National Oceanography Centre). Margaret still loves the science and the work she started 25 years ago and has been on more research expeditions than she can count.
Support for diversity and equality
In an article for 'Women in Oceanography' Margaret gives many examples of how things are changing for the better, one great story involves a physics team she put together for a 2011 Antarctic cruise which consisted of six women and one man. She says "Some of the women had not been to sea for some years while their children were very young: their excitement and enthusiasm at returning to the sea made that cruise particularly enjoyable and hugely successful."

---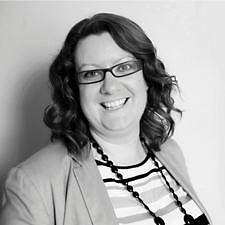 Lucy Cox
Lucy is the Head of Communications at the National Oceanography Centre, managing a team of five communications professionals, who promote the NOC's activity.
Career
Lucy graduated with a degree in Journalism specialising in PR and publicity. Her first role saw her working in a small multi-service communications agency in York, working for clients as varied as window and door manufacturers, business services, the Flying Scotsman and eight English Heritage properties.
Lucy's career then took her back to Southampton, where she studied, to another PR agency servicing a large private healthcare account, then to a national network of florists, before taking a position at the Office for National Statistics, heading up the press office for the 2011 Census. "This was a steep learning curve for me, but an amazing opportunity to communicate with every household in England and Wales, and do it in two languages – one of which I don't speak!"
After short contracts at Southampton Airport and Southampton City Council Lucy joined the NOC in March 2014 and considers this to be "one of the most interesting and diverse places I've ever worked, both from the point of view of the backgrounds and experience of the people I work closely with and the subject matter. I'm very lucky to have genuinely inspiring content to work with."
Support for equality and diversity
"It's the diversity in my career which I believe has kept me passionate about what I do, and what has also allowed me to develop the range of skills and experience that I have, and so it's also something I value in any one job."
---
Carolyn is Learning and Organisational Development Manager at the NOC, where she manages a small team of learning professionals and chairs the Investors in People working group.
Career path
Having graduated with a degree in modern languages and marketing, Carolyn began her career in marketing and communications. After a period of illness, she began volunteering with Oxfam, initially on the recruitment side, eventually ending up as HR Manager heading up the global volunteering programme and part of Oxfam's senior management team. Carolyn learnt a huge amount about how to be a great manager from managing a large team of volunteers. She was invited to join the global leadership development faculty which stretched her and gave her a taste for learning and development. After 15 years with Oxfam, Carolyn moved to the University of Southampton as Learning and Organisation Development Manager, before moving to a similar role at the NOC. She holds post-graduate qualifications in facilitation and coaching, is an accredited practitioner in a range of psychometric tools and is a registered qualified test user with the British Psychological Society.
Support for equality and diversity
Carolyn says, 'My years of working with people from all backgrounds in Oxfam helped me to appreciate that there are many and varied ways to get to the same outcome, and my approach isn't necessarily the best. I have benefited from being able to try different projects and roles, and have developed new skills and behaviours which I have been able to apply to the day job. I love my job here at the NOC – no two days are the same, I get to work with all sorts of amazing people who are committed to being the best they can'.