On Monday, eight of us made our way from Aberdeen, Bristol, and Southampton to Cork, Ireland, in order to join the second leg of JC062. When we arrived at the port on Tuesday morning, the James Cook already awaited us eager to head back out to sea.
While we were welcomed on board, it was time to say goodbye to several members of the scientific party from leg 1, who had done their duty in servicing the mooring (see previous blogs) and were heading back home.
It's been 24 hours since we joined the ship and most of us get lost merely once or twice a day now while stumbling along the wide corridors of the Cook. I am heading mostly towards the galley to pick up cups of tea and too many biscuits, because you are much more prone to seasickness on an empty stomach (well, it's an excellent excuse to enjoy the very generous food portions somewhat guilt-free). Thus far, however, the weather gods have been smiling upon us in good spirits.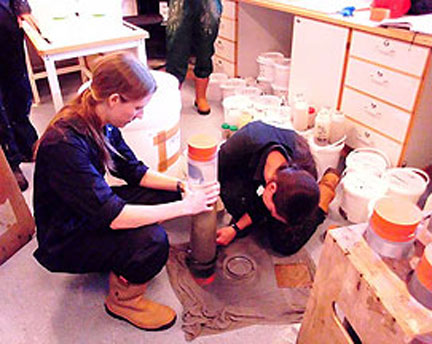 Before heading back to our final destination, the Porcupine Abyssal Plain (PAP), we stopped again at the Goban Spur to collect additional sediment cores for Charlie's experiment (see previous blog). So, over the past twelve hours the megacorer was deployed several times to extract very sticky sediment from about 1,000 m depth. Once the corer is back on deck, everyone springs into action, to measure, photograph, slice, sieve, preserve and/or freeze the precious deep-sea mud. Leftovers tend to sometimes end up miraculously on people's faces. One wonders! To everyone's delight, Charlie got all the samples she needed and she will now be busy experimenting away over the next few days.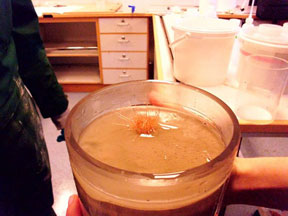 After a successful day of coring we left the Goban Spur and are now steaming to the PAP site, where we expect to arrive sometime tomorrow morning. During transit, we will map some of the deep seafloor using swath bathymetry, a system that transmits a broad acoustic pulse from a transducer, which allows you to determine water depth and the nature of the seabed.
Once we reach our destination, work will start again with the dayshift ready to deploy a variety of instruments, such as the baited camera lander and the amphipod trap, to get a closer look at the strange creatures that lurk below us…which makes for the perfect cliff-hanger! So watch this space to find out what each of us will be up to over the next four weeks.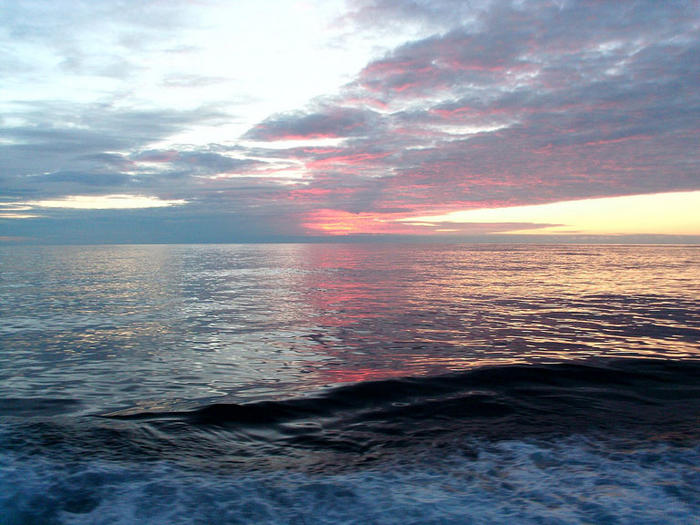 ---