On Monday most folks in the science party started research activity when we reached Goban Spur where we collected water and sediment samples. The sampling tubes on the mega corer fill with sediment as the instrument lands on the sea bed.
On Monday we experienced a challenge when recovery of the corer initially yielded very little sediment. Despite the setback, we continued in good spirits and decided to reduce the number of sampling bottles from six to four. This altered the way in which the corer impacted the sea bed with the result that we got the samples we hoped for within a couple of hours!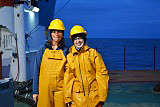 The team continued working into the night. There was a momentary break when a member of the crew spotted two sun fish off the port side. Two elegant narrow fins sailed in parallel 100 m off the side of the ship, then one fish began breaching, flashing a brilliant white underbelly.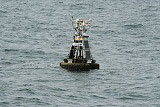 Today we sailed on towards the PAP site where at about 1630 hrs, the highlight of the day was spotting the PAP 1 buoy. Last deployed in September 2010, the buoy is the result of a collaboration between NERC and the Met Office and has enabled, for the first time, direct monitoring of both atmospheric surface ocean conditions, and deep sea ecology simultaneously. A key objective of this cruise is to 'turn around' the buoy by replacing its sensors with new ones, a task that we will tackle on Thursday
Tonight the team continue working on sample analysis and CTD deployment and recovery.
---