The National Oceanography Centre and the Royal Navy have signed a Memorandum of Understanding to enable cooperation on a variety of activities relating to marine autonomous systems with a particular focus on gliders.
The Royal Navy does not currently have a mature glider capability, so working with the National Oceanography Centre (NOC) will provide the basis for trialling and understanding how the gliders can best be used.
Director of National Marine Facilities at the NOC, Geraint West, said "The NOC is pleased to be able to apply its world-leading capabilities and considerable experience in marine autonomous systems – sometimes referred to as unmanned underwater vehicles (UUVs) – to work with the Royal Navy.
"The Memorandum of Understanding is a significant step in the relationship between the NOC and the Royal Navy that takes us into a new phase of mutual cooperation, enabling the two parties to work together in sharing ideas and developing a working strategy."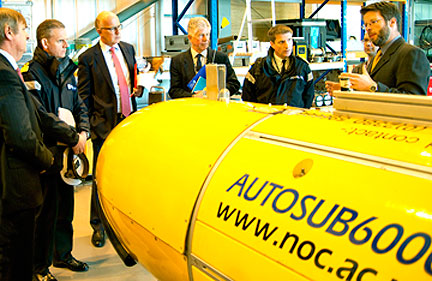 Currently the NOC has the largest marine autonomous systems fleet for science in Europe, and with recent acquisitions we now also operate by far the largest glider fleet in Europe for which we continue to develop novel sensors and applications.
The NOC has some very unique capabilities, such as Autosub Long Range which is designed for operations to a depth of 6000m, with a range up to 6000km and deployed for periods up to six months.
In parallel, the NOC will continue to work with the Defence Science and Technology Laboratory (DSTL) which is contributing funding for a number of research and development projects related to marine autonomous systems, including the NOC's Long Endurance Marine Unmanned Surface Vehicle project.
Commodore Guy Robinson, from Navy Command Headquarters, who visited the NOC on Monday to witness the marine autonomous systems first hand, said: "I anticipate that this will develop into a most fruitful partnership for the Royal Navy and the NOC. This is an exciting opportunity as we develop this new area of our capability."