A competition to improve ocean research methods has awarded £250,000 to innovators looking to develop robot technology.
Five proposals have each been awarded £50,000 to develop an integrated system for the National Oceanography Centre that will coordinate a suite of autonomous systems – such as a fleet of gliders – to gather data over a period of months at sea. The successful bidders now have three months to produce a workable concept.
The Phase One contracts have been awarded to University of Exeter, SeeByte Ltd, Marine South East, RED Scientific, and the Frazer-Nash Consultancy.
The competition was launched last year by the Natural Environment Research Council (NERC) with Innovate UK's Small Business Research Initiative (SBRI), in partnership with the Defence Science and Technology Laboratory (Dstl).
Geraint West, Director of National Marine Facilities at the National Oceanography Centre said:  "Unmanned surface vehicles, underwater gliders and autonomous submarines are already delivering observations in the open ocean over timescales of weeks and months. Building on the success of our previous Small Business Research Initiative, the aim is to work with industry to move unmanned autonomous technology further forward and develop a network that can respond to changing situations in an integrated way."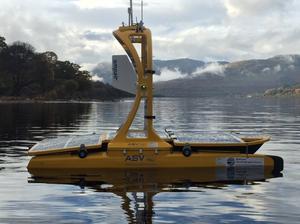 The ocean is a dynamic, rapidly changing environment that is a challenge for scientists measuring features like ocean fronts, pollution and plankton blooms that change over time and area. Developments in robot technology have made this a possibility and funding is now taking this to the next level."
The competition will assess and develop novel adaptive autonomous ocean sampling network (AAOSN) management systems. Once the five concepts have been presented, those meeting the terms of the competition will be invited to bid for Phase Two of the competition. Two successful proposals will be selected to develop into prototypes and trialled by NOC scientists in marine conditions.