Oceanids
Funded through the Government's Industrial Strategy Challenge Fund, new and innovative autonomous vehicles being developed at the NOC are pushing the boundaries of how we explore our oceans. With capabilities allowing us to travel greater distances, explore under ice, and collect data in some of the most challenging and hostile environments, autonomous vehicles are the future of marine science.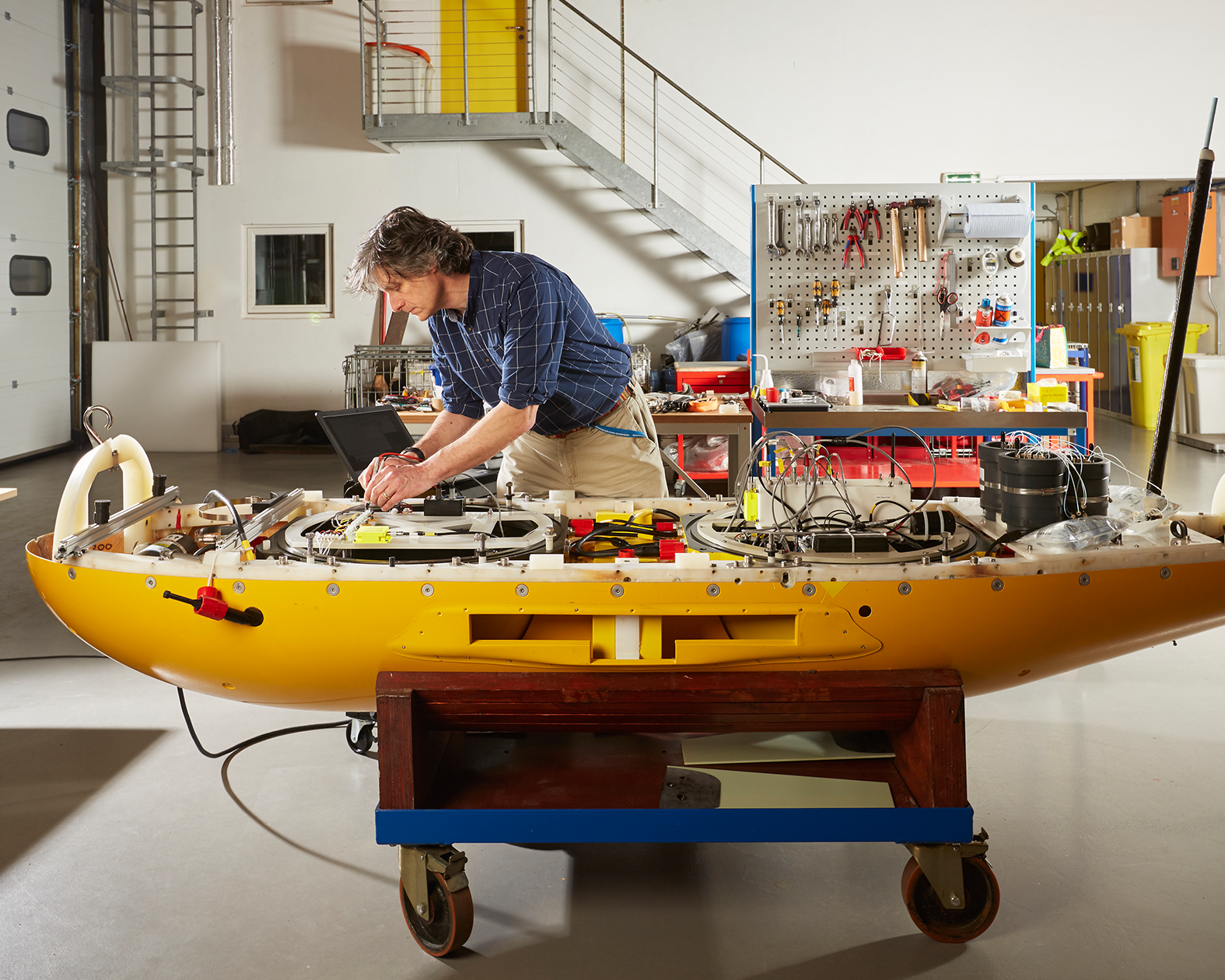 With so many unanswered questions about the physical, chemical and biological processes in our oceans, these ocean robots could help provide data to meet the big environmental challenges facing our Earth.
To ensure the UK remains at the forefront of global marine science and technology innovation, the UK Government has made a £16million investment in marine robotics, focused at the NOC.
Oceanids includes development of a new 1500m depth-rated Autosub Long Range (ALR1500), and a 2000m depth-rated vehicle capable of carrying high-power sensors and venturing under ice (Autosub2KUI). The Oceanids team will also develop new command-and-control systems for efficient Marine Autonomous Systems (MAS) fleet management, co-ordinate demanding sea trials for the new vehicles and sensors to ensure they are ready for science and operational use, and build an enhanced MAS control room in the Marine Robotics Innovation Centre.
Investment is also being made in novel sensor development, suitable for deployment on various submarine and surface platforms, which will include the new MAS platforms developed through Oceanids. New equipment will also be procured to support the NERC–EPSRC Centre for Doctoral Training in 'Smart and Autonomous Observing Systems', called NEXUSS – 'NEXt generation Unmanned System Science'.
This investment will provide unprecedented capability in ocean observing for all of the UK marine science community, allowing a persistent presence in hostile, previously inaccessible environments, and providing a significant new capacity to tackle some fundamental questions around global environmental science.
Read the latest Oceanids newsletter here. (Published December 2018)
The NOC will be seeking to add value by ensuring the funding for this disruptive technology innovation is translated into industry, by working in partnership through our existing Innovation Centre partners and associates and wider. Oceanids will help us strengthen academia-industry-government stakeholder engagement through funding initiatives, such as the enhanced control room in the Innovation Centre, and will build on previous investment to enable greater autonomy and smarter operation of new and existing platforms, for example through enhanced command and control. 

Oceanids SRO, Julie Pringle-Stewart. 
This combined investment in marine robotic vehicles and sensors will ensure UK researchers have access to cutting-edge technologies that enable world-leading science, and will also provide a capability pathway for UK Government and industry partners looking to utilise these technologies for safer and more cost-efficient offshore operations. 

NOC Marine Autonomous and Robotic Systems, Chief Scientist, Professor Russell Wynn.
Developments undertaken by the NOC as part of Oceanids are detailed below.
 
The development of Autosub2KUI at the NOC will provide the UK science community with a next generation, ship-launched, high-power, Autonomous Underwater Vehicle (AUV) capable of operating under ice.
The new Autosub2KUI will be designed so that it can operate from a range of research vessels including the UK's RRS James Cook, RRS Discovery and the new Polar research vessel, the RRS Sir David Attenborough.
Equipped with state-of-the art sonars and camera systems to enable scientists to create detailed maps and establish habitat characteristics of the seafloor, the new AUV will also have under-ice navigation capabilities so it can operate underneath vast areas of sea ice or glaciers. The systems on board will be designed to withstand pressure at depths of 2000m.
The new AUV will build on the successes of the current Autosub3 and Autosub6000 vehicles, and exploit new Marine Autonomous Systems (MAS) technologies being developed in collaboration with industry partners at the NOC's Marine Robotics Innovation Centre.
Autosub Long Range (ALR) 1500 will be our longest range AUV to date. With increased endurance and payload capacity, ALR1500 will be optimised for surveying the continental shelf and upper slope, with the potential to complete a full trans-Arctic mission, under ice.
The original ALR (ALR6000) is an AUV capable of deployments of thousands of kilometres and lasting several months (depending upon sensor power drain and speed) with a maximum depth excursion of 6000m. For many application areas, such as measurements in shallow water, the extreme depth rating of the original ALR is not required, as measurements are concentrated in the upper water column. This provides an opportunity to design and manufacture a new version of the ALR with a shallower depth-rated pressure vessel.
This lower depth-rated pressure vessel will be designed to deliver a greater buoyancy and payload capacity, which can accommodate a battery pack 2.5 times larger than the ALR6000. This battery configuration will enable enough power for deployments with longer ranges, higher speeds, and the integration of more advanced power-hungry sensors or navigation systems.
The Command and Control (C2) project will simplify the operation of the Marine Autonomous Systems (MAS) fleet operated by the NOC, and will automate the processing and archiving of the near real-time data acquired by the vehicles within the National Marine Equipment Pool and the new MAS platforms being developed through Oceanids.
The C2 system will provide a unified and consistent infrastructure to control multiple unmanned long-range vehicles operated by the NOC, and will support the automated transfer and archiving of near real-time science data collected by the vehicles into the British Oceanographic Data Centre.
The C2 project will further develop the infrastructure to allow piloting automation with the overall aim to maximize the quality of data collected, enhance the safety of the platforms and increase the number of autonomous vehicles that can be operated in the water at any one time.
With incremental upgrades, the C2 infrastructure is being made available to the UK science community throughout the life of the project. These upgrades will be seamlessly integrated into the existing MARS piloting portal.
As part of Oceanids, new equipment will be procured to support the NERC–EPSRC Centre for Doctoral Training in 'Smart and Autonomous Observing Systems', called NEXUSS – 'NEXt generation Unmanned System Science'.