US oceanographer and astronaut, Dr Kathryn Sullivan visited the National Oceanography Centre Southampton (NOCS) and met with young scientists starting out in their research careers.
The former astronaut is now the head of NOAA – the National Oceanic and Atmospheric Administration. She also met the senior team from the National Oceanography Centre (NOC) to discuss ways US and UK oceanographers can work together to learn more about the global ocean.
During her visit Dr Sullivan met with a group of international PhD students studying at the Graduate School of National Oceanography Centre Southampton (GSNOCS) for a question and answer session. GSNOC has around 200 students working with scientists from the National Oceanography Centre and the University of Southampton.
Dr Sullivan has flown on three separate space shuttle missions – aboard Challenger, Discovery and Atlantis – logging more than 530 hours in space. She also became the first American woman to perform a spacewalk. Now she heads up one of the biggest science agencies in the world. In addition to oceanography, NOAA supports weather forecasts, storm warnings and climate monitoring along with fisheries management and marine commerce.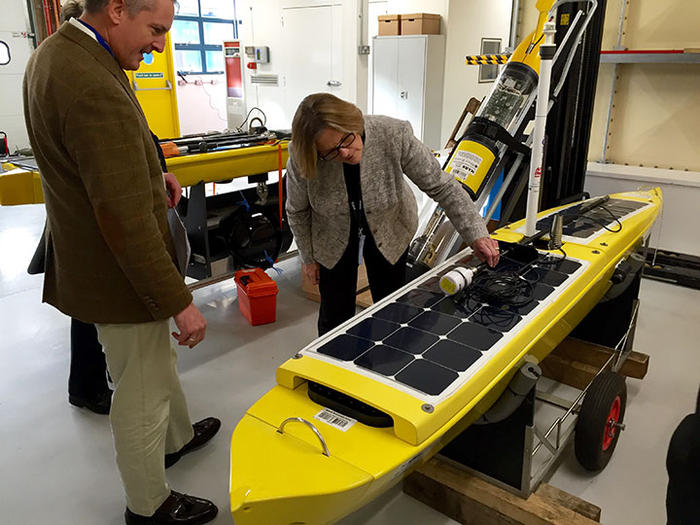 Welcoming Dr Sullivan to the National Oceanography Centre, Executive Director Professor Ed Hill said "We are keen to explore areas where there could be further collaboration between ourselves and our US colleagues. Researching the global ocean requires global partnerships – it is too big a subject for any one institute or country."
While at the centre, Dr Sullivan had a tour of the National Oceanography Centre's new Marine Robotics Innovation Centre, which is developing robot sub, glider, robot surface vehicle and sensor technology to assist studies of the ocean environment. The two research vessels operated by the centre, Royal Research Ships Discovery and James Cook are both on research expeditions in the mid Atlantic.