Growth in the developing economies has resulted in an increase in the global demand for minerals and energy. At the same time the actions required to mitigate and adapt to increased levels of carbon dioxide in the atmosphere demand significant changes in energy generation, distribution and utilisation.
Increased energy production from renewable resources, including wind and solar; growth in the numbers of electric and hybrid vehicles and improving the efficiency of domestic and industrial electronics will increase demand for the specific elements required for these green developments.
Environmental technologies are evolving rapidly and so it can be difficult to make accurate predictions on future requirements, but rapid growth in demand has raised concern over the security of supply of minerals critical for Environmental Technologies (E-Tech minerals).
NERC has developed a Security of Supply of Mineral Resources (SoS Minerals) Research Programme to enable research that should help mitigate concerns related to the security of supply of E-Tech Minerals.
As part of the this programme, researchers within the Marine Geoscience Group, NOC, were successfully awarded a Catalyst Grant in order to investigate the potential to develop a large scale grant proposal. A key element of this is the hosting of a multi-disciplinary workshop where a team of geological, biological and oceanographic researchers and specialists from the offshore industry will attend a workshop on 'The E-tech element potential of submarine ferromanganese (cobalt) crusts'.
The workshop will be held on 26–27 February at the Grand Harbour Hotel in Southampton to address some of the key areas related to enabling responsible exploration and exploitation of minerals, in particular E-tech minerals, from the cobalt crusts of the deep ocean floor.
NOC Senior Scientist Alan Evans said the workshop has taken a truly global perspective, with participants coming from the US, Germany, South Pacific, Brazil, the Netherlands and the UK.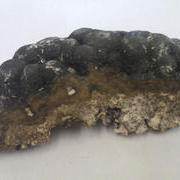 The aims of the workshop are to identify key knowledge gaps and science opportunities related to the E-tech elements potential of submarine ferromanganese crusts, in particular tellurium and cobalt, and to create a network which will form the foundation of a consortium to apply for a large-scale NERC Research Programme.
The workshop will address four major themes:
Crust distribution, genesis, composition and E-Tech element concentration,
Exploration strategies,
Feasibility of extraction and methodologies,
Environmental and ecological impacts of extraction.
Further information on the project can be found at www.unclosuk.org/NERC_SoS_Minerals.html.