Scientists at the National Oceanography Centre (NOC) have secured a three-year contract with the European Space Agency (ESA) to carry out 'quality control' checks on ocean data captured by one of its satellites.
The team at NOC were approached by ESA to analyse data recorded by CryoSat-2, due to their extensive knowledge and expertise in this field and their access to existing oceanographic databases.
The CryoSat-2 satellite was launched in 2010 to measure the thickness of ice sheets and polar sea ice using an advanced on-board radar altimeter, but scientists later proved that it could also capture ocean data with much more precision than previous satellite equipment. It is able to more accurately map surface currents and height of waves and also measures surface winds – allowing tracking of extreme events such as storm surges.
The satellite collects data continuously and these are provided in three versions of increasing accuracy: in near real-time, more accurate data that are just few days old and 30 day data which are the most accurate. The team at NOC will be carrying out scientific 'quality control' on these satellite data to validate their accuracy. They will be looking at the information collected and comparing it with existing models, charts and measurements, checking for missing information and assessing exactly how accurate the new data are.
They will also be feeding their findings back to ESA and making recommendations as to how to improve the data and their capture and processing.
The new contract has commenced this month and will run for three years.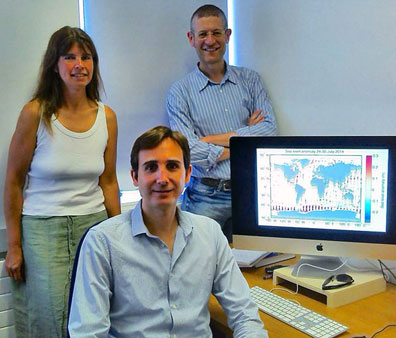 The NOC team is headed by Dr Paolo Cipollini, who added "We're very proud that NOC has been chosen as the organisation to lead this exciting project, which takes ocean data monitoring to a new level. By validating the accuracy of the information sent from the novel altimeter on CryoSat-2, we can build better databases and models, which can help understanding and future predictions of the ocean dynamics and sea level – whose rise is an important indicator of climate change."
In addition to the deep ocean, CryoSat-2 also works remarkably well in the coastal zone, so its data can also be used for coastal sea level and storm surge monitoring.