Last week the National Oceanography Centre (NOC) hosted a visit from Science Minister George Freeman, as part of a wider tour of the Solent region.
Organised by the Solent LEP, the Minister led a roundtable discussion with local businesses and organisations on maritime innovation and decarbonisation of the Solent economy. NOC's Chief Executive Professor Ed Hill and Managing Director of NOC Innovations Huw Gullick joined the discussion, putting autonomy forward as a key part of the region's maritime narrative. The discussion ranged across the strengths of the region, the barriers and skill needs, and the future of maritime, with companies working out of NOC's Marine Robotics Innovation Centre also part of the discussion.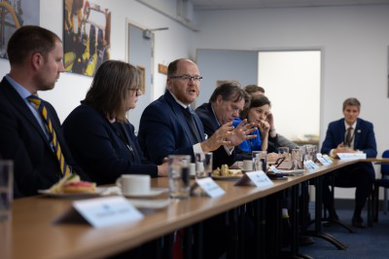 The Minister then enjoyed a short tour of NOC, including meeting Boaty McBoatFace and seeing first-hand the huge potential the region has to lead the world in marine autonomy, with NOC at its heart.
About the Solent LEP
The Solent Local Enterprise Partnership (LEP) was formed after the Government offered local areas the opportunity to take control of their future economic development. It is a locally-owned partnership between businesses and local authorities and plays a central role in determining local economic priorities and undertaking activities to drive economic growth and the creation of local jobs.
The Solent LEP is led by the business community and supported by three university partners, the further education sector, three unitary authorities, eight district councils, one county council and the voluntary and community sector – all working together to secure a more prosperous and sustainable future for the Solent area.