A computer model that predicts how marine ecosystems will change into the future, developed by researchers at the National Oceanography Centre, will contribute to UK assessments of future environmental change, as well as the next Intergovernmental Panel on Climate Change Assessment Report.
The NOC-developed model MEDUSA (Model of Ecosystem Dynamics, nutrient Utilisation, Sequestration and Acidification) has been selected for the Natural Environment Research Council's Earth System Modelling Strategy. It was chosen as a result of an independent assessment of marine ecosystem models put forward by different UK research institutes. The National Oceanography Centre (NOC), Plymouth Marine Laboratory (PML), the University of East Anglia (UEA) and the UK Meteorological Office (UKMO) are all involved in the iMARNET project, which aims to develop the marine component of this NERC strategy.
In addition, MEDUSA will be jointly developed further by NERC and UKMO for scientific contributions to the Sixth Assessment Report (AR6) of the Intergovernmental Panel on Climate Change (IPCC), in five or six years' time. Created over the last five years by NOC's Dr Andrew Yool, Dr Katya Popova and Professor Tom Anderson, MEDUSA is an 'intermediate complexity' marine biogeochemical model that includes many key biological groups and processes, but which remains simple enough to be run efficiently on supercomputers.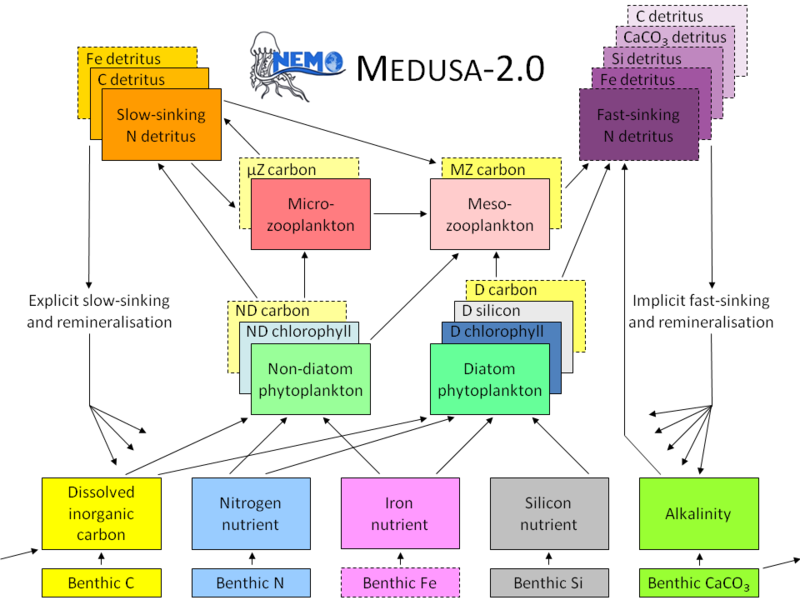 Earth System Models consider not only the physical components of the climate system – such as winds, ocean currents and ice cover – but also the chemical and biological interactions that affect environmental change. As part of its Earth System Modelling Strategy, NERC has been drawing together research and expertise from across the community to consolidate activity around a single framework. This has already resulted in the development of the Joint UK Land Environment Simulator, JULES, and attention has now focused on the marine component through the iMARNET project.
The strategy will play a key role in UK assessments of future change. An important aspect of this is the changing role played by the world's oceans, not least in the uptake and drawdown of atmospheric carbon dioxide.
Dr Katya Popova, Ecosystem Modelling sub-group leader in NOC's Marine Systems Modelling group, said "The excellent work of the MEDUSA team over the last three years has led to a world-class global biogeochemical model with a fast-growing number of applications. In particular, the model is at the forefront of international polar research as one of the most advanced models of Arctic ecosystems. On the national stage, MEDUSA just became the community choice model for the UK contribution to the IPCC. These recent successes are the result of the team's very hard work, as well as support from many colleagues across NOC who contributed to this effort."
Dr Andrew Yool, who coordinated NOC's iMARNET effort, said "It is certainly pleasing to have been successful in this activity, though we are not under any illusions about MEDUSA's limitations or the work that remains to be done with it. Nonetheless, MEDUSA's use in AR6 will make it an easier and more justifiable one-stop-shop for observational scientists – especially colleagues in NOC's Ocean Biogeochemistry and Ecosystems group – and I hope that we are able to continue and extend collaborations to best make use of our model."
Dr Richard Sanders, Head of NOC's Ocean Biogeochemistry and Ecosystems (OBE) group, said: "I regard this as an absolutely stunning achievement which NOC's Marine Systems Modelling (MSM) group should be massively proud of. To have gone from a standing start to this position in the time is nothing short of remarkable. I am really excited that in-house there is an IPCC class model which has enough biological detail in it – including ballast, sinking speeds, ocean acidification, iron, diatoms – to allow OBE to really interact strongly with MSM on analysis and interpretation yet which can be run in a General Circulation Model at high resolution."