The UK National Oceanography Centre (NOC) has signed a licence deal with Canadian company, Rockland Scientific International (RSI), giving RSI the rights to manufacture and sell a novel probe guard designed and tested by NOC engineers and scientists.
The probe guard is designed to protect RSI's MicroRider turbulence sensor probes, particularly when deployed on ocean gliders, while minimising flow disturbance around the sensor probes.
NOC's commercialisation manager Gerry Scott explained that the turbulence sensor probes extend out from the protected front casing of the gliders and other equipment on which the sensor can be attached, such as NOC's range of Autosub autonomous underwater vehicles (AUVs).
As this type of equipment is deployed at sea, it needs to be craned on and off the ships. Gerry said "This is when it can be problematic as the probe tips can be damaged, potentially affecting the measurements. This can be costly in terms of wasted time during ship deployments and the expense of replacing the probe tips."
NOC scientists and engineers decided to design and develop a probe guard. The prototype was subjected to comprehensive testing to see if the probe guard affected turbulence readings. Part of this comprehensive testing included field deployment on a research cruise on board the Royal Research Ship Discovery.
Results showed the probe guard did not degrade turbulence readings and NOC fully verified and approved the probe guard.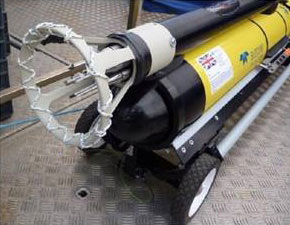 With the licence deal signed, RSI is now manufacturing and selling the new probe guards, which are made from a light weight material in order to minimise the impact on the balance and movement of gliders or AUVs.
Gerry said: "This is an excellent example of where NOC scientists and engineers have seen a problem and then taken the initiative to come up with a novel solution with the probe guard."
Executive vice president of Rockland Scientific International, Dr Fabian Wolk said "The entire process of the NOC technology transfer was very satisfying. Firstly, the technical solution of the nose guard design is very suitable and pertinent for our MicroRider turbulence module. In addition, the documentation and the communication between NOC scientists and RSI staff were clear and effective, allowing us to thoroughly evaluate the design and performance data of the nose guard and to make a well-informed decision to integrate this design in our product catalogue."
This initiative is part of NOC's remit to put scientific knowledge to use and to provide impartial scientific advice to develop technologies and transfer this to business and industry. NOC also has the resources and facilities to provide complementary capabilities to Small to Medium Enterprises (SMEs) to assist in making these types of innovations into a reality.