A massive underwater canyon has been discovered in the Mediterranean near Italy by an international team of scientists that includes mapping experts from the National Oceanography Centre.
The canyon measures almost 1000 square miles (2,500 sq km) and the scientists believe this giant area was not carved out by current flows, the usual way underwater canyons are formed, but possibly by landslides initiated by earthquake activity.
It is one of more than 500 submarine canyons that have been discovered along a 150 mile (250km) underwater cliff called the Maltese Escarpment that runs southwards from Sicily and past the Maltese Islands.
Leading the research was Maltese scientist Dr Aaron Micallef, a former PhD student of the National Oceanography Centre (NOC) who now works with the University of Malta. He believes the canyon is being formed by landslides and undercutting of the escarpment.
He said "The canyons were not cut by large rivers as there are no sizeable rivers on Malta or Sicily. This is one of the largest features on the seafloor and one of the least explored."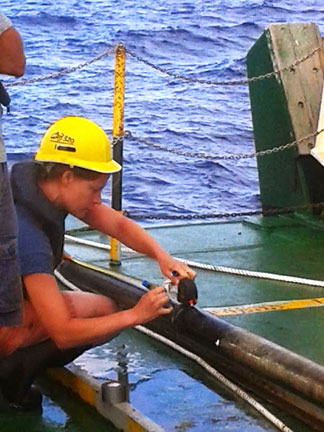 By looking at the condition of the rocks the scientists know that this canyon was formed recently and the area is prone to earthquake activity. Using acoustic equipment the scientists have investigated and charted depths reaching over 2 miles (3.5km). Deep core sediment samples of the ocean floor were taken which will provide important clues to past earthquake activity in the region.
NOC's leading underwater mapping expert Dr Tim Le Bas said. "Submarine canyons can act as conduits for nutrients so have rich and diverse biological communities, but they also act a conduit for pollutants too. We hope to come back with underwater cameras and make detailed maps of the different habitats that are found in canyons."
Working aboard the Italian research vessel the OGS Explora, this was the team's second expedition to the region.
Funded by an EU Marie Curie Career Integration Grant, the Cumecs 2 team includes scientists from the National Oceanography Centre, the University of Malta, the New Zealand National Institute of Water and Atmospheric Research, University College Dublin and Italy's National Institute of Oceanography and Geology.
During the five-day expedition the team published a blog that can be seen at: http://cumecs2.blogspot.it/p/home_3.html.