International expeditions and trials over a month-long period mean for the first time in the National Oceanography Centre's (NOC) history, a total of 14 unmanned marine autonomous vehicles will have been deployed simultaneously.
All of these vehicles are based at NOC's Marine Autonomous and Robotic Systems (MARS) facility based in Southampton. MARS is a national facility for developing and providing marine autonomous vehicles for the UK marine science community.
In Antarctica, NOC's in-house developed Autosub 3 Autonomous Underwater Vehicle has been exploring under the Pine Island Glacier as part of a science cruise on the RRS James Clark Ross. In two missions it has completed over 360 km beneath this ancient glacier. Operating in this extreme environment was challenging with −15°C temperatures and 45-knot winds.
Steve McPhail, Head of the AUV team said: "All who contributed to this effort, both back at base and here, should be proud of this achievement – 360 km is a long way in this very hostile environment." The science campaign is now complete and Autosub 3 is returning back to base for servicing and preparation for its next mission.
In Gran Canaria at the PLOCAN (Plataforma Oceánica de Canarias) facility, nine new gliders purchased by MARS have been trialled and 12 new pilots have been trained to operate them. The gliders profile between the surface and depths of up to 1000 metres. Their slow speed and low power sensors mean they use very little energy as they collect data.
Two long endurance marine unmanned surface vehicles (LEMUSV) have been trialled off Oban in Scotland. These pre-production prototypes have been developed by Hampshire companies ASV Global and MOST AV and are the result of of a Small Business Research Initiative (SBRI) competition sponsored by NOC, the Defence Science and Technology Laboratory (DSTL) and the Technology Strategy Board.
Off the coast of Donegal in Ireland, the Autosub Long Range (ALR) Autonomous Underwater Vehicle is being launched this Wednesday, weather-permitting, as part of the FASTNEt (Fluxes Across Sloping Topography of the North East Atlantic) programme. It will be piloted via satellite from NOC as it travels out to the edge of the continental slope, collecting data over a 30-day period.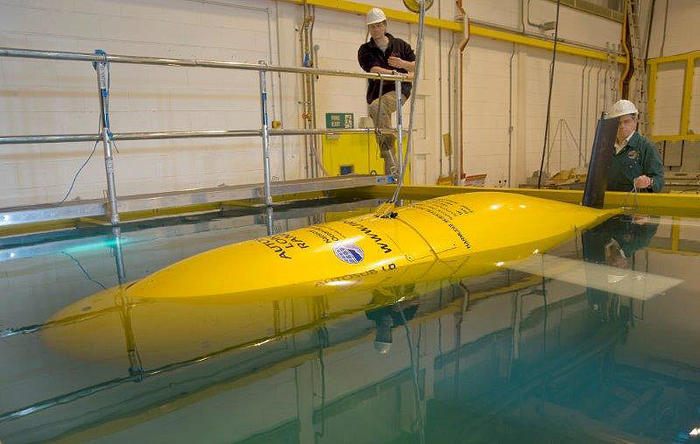 Finally, Autosub 6000 is currently being prepared to take part in the Shelf Seas Biogeochemical Research Programme Cruise on the new RRS Discovery.
It has been a very challenging and busy time for the MARS team with these deployments. Dr Maaten Furlong, Head of MARS said "Within the space of one month, all of our larger vehicles will be in action. I am very proud of what the team has achieved in preparing and operating these vehicles for the various science and testing campaigns. What has been accomplished by the team under tight deadlines and considerable pressure is a testament to their dedication and professionalism. Their efforts are greatly appreciated by me and, I am sure, the science community."
The National Oceanography Centre will be at Stand 235 at Oceanology International 2014 from 11–13 March at the ExCeL Centre in London, where staff will be available to answer any questions.
For more information on the National Oceanography Centre, see https://noc.ac.uk/business.