Some 340 European scientists, policy-makers and other experts, including representatives from the National Oceanography Centre, have agreed a common vision of priorities for marine research and action until 2020.
They published the Rome Declaration at the EurOCEAN 2014 conference in Italy – an important document which presents a shared goal of how marine scientists can work together to address the important challenges facing society.
The head of the National Oceanography Centre Professor Ed Hill played a key role in the process, chairing the Declaration drafting group and presenting the draft for agreement at the EurOCEAN 2014 conference. Representatives from 143 organisations from 31 countries attended the event, which focused on connecting science, policy and people, the sustainable management of the ocean and identifying future research priorities in support of blue growth.
As Europe emerges from the worst financial crisis in recent history, the importance of the ocean to the economy cannot be underestimated. Continued investment is also critical. Figures provided within the Rome Declaration show that the European maritime economy is currently valued at 500 billion euros per year and provides more than five million jobs. It also shows that the combined EU (European Commission and Member States) investment in marine and maritime research is estimated at two billion euro – less than half of 1%.
Speaking after the event, Ed Hill said: "The Rome Declaration comes at a pivotal moment for Europe at which the value of the blue economy in providing jobs and as a basis for economic growth is increasingly recognised. Scientists across Europe have shown that they stand ready to grasp the opportunities and take their responsibilities in contributing to sustainable and environmentally responsible 'blue growth', through scientific and technological research and greater outward engagement leading to innovation. "
The Rome Declaration identifies four high-level goals:
Valuing the ocean
Promoting a wider understanding of the importance of the seas and oceans in the everyday lives of European citizens.
Capitalising on European leadership
Building on our strengths to reinforce Europe's position as a global leader in marine science and technology
Advancing ocean knowledge
Building a much greater knowledge base through ocean observation and fundamental and applied research
Breaking barriers
Addressing the complex challenges of blue growth and ocean sustainability by combining expertise and drawing from a full range of scientific disciplines and stakeholders.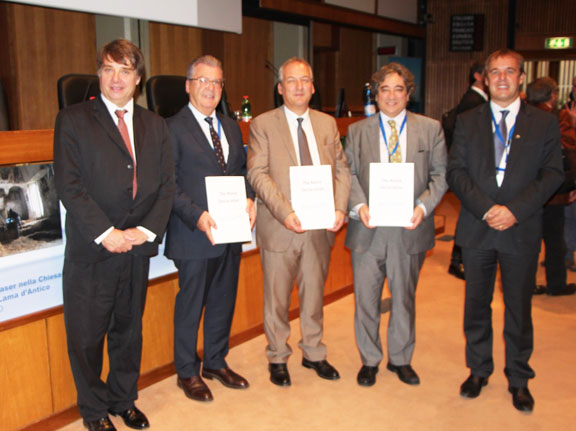 EurOCEAN 2014 was the eighth event of its kind and followed on from the successful Ostend conference in 2010. Previous conferences have also generated high-level declarations which have directly influenced research and policy developments in Europe.