On 1 April 1949, the UK's National Institute of Oceanography (NIO) came into being – the present-day National Oceanography Centre can trace its roots to that momentous event.
The NIO grew from two groups of researchers - since 1925 the Discovery Investigations had studied the ecology of whales in the Southern Ocean and, during World War II, Group W at the Admiralty Research Laboratory had carried out pioneering research on ocean waves. The new NIO was overseen by the National Oceanographic Council, whose very broad and influential membership across government, the Admiralty and academia gave the institute truly national status. The institute's remit was to "advance the science of oceanography in all its aspects".
Its founding Director was G.E.R. (later Sir George) Deacon, who had been a Discovery Investigations chemist and who had led Group W. The new institute had use of the two Royal Research Ships previously used by the Discovery Investigations, Discovery II and William Scoresby. It was not until 1953 that the NIO found a permanent home, surprisingly in an ex-Admiralty building in the hamlet of Wormley (photo below), a few miles south of Guilford, 30 miles from the sea and even further from the ships' base in Plymouth.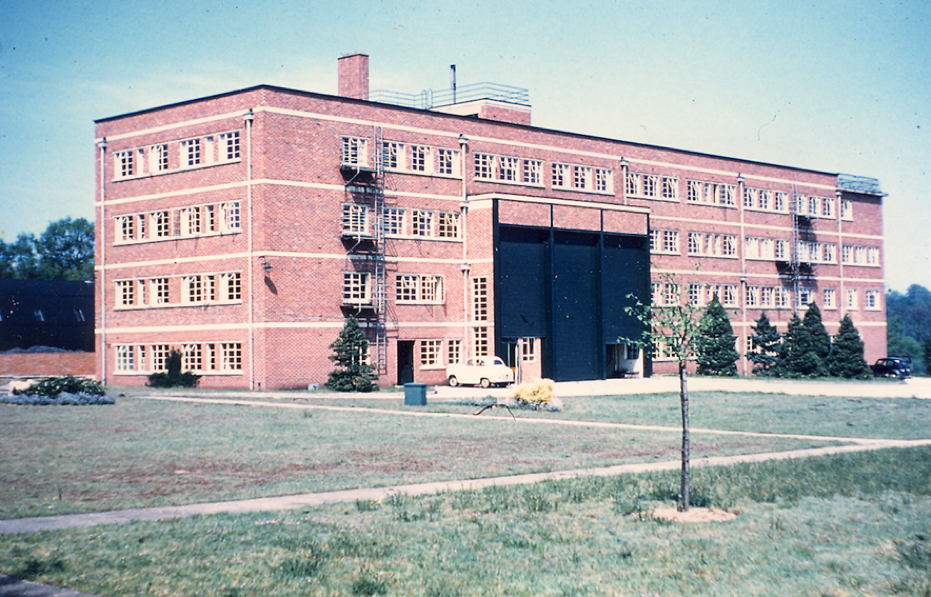 The "National" Institute then underwent many organisational changes. Notably, in 1965 it came under the newly established Natural Environment Research Council and in 1973 it became the Institute of Oceanographic Sciences incorporating the Institute of Coastal Oceanography and Tides in Liverpool and the Unit of Coastal Sedimentation at Taunton.
In 1995, it eventually moved from Wormley to the present waterfront site in Southampton to be part of the Southampton Oceanography Centre alongside ocean and earth science departments of the University of Southampton, and with the research ships also re-locating to Southampton from their then base at Barry in South Wales.
In 2005, the explicit national remit and name was restored as the National Oceanography Centre (NOC), and in 2010 the Liverpool part of the former Institute of Oceanographic Sciences (which had become separated as the Proudman Oceanographic Laboratory) re-joined the national centre once more.
Professor Ed Hill, Executive Director of the National Oceanography Centre, who has overseen the developments since 2005 said: "I am delighted to join with former staff of the National Institute of Oceanography today to celebrate the 70th anniversary of its formation. Under George Deacon's leadership, it was a multi-disciplinary centre from the start - spanning physical and biological sciences and with technology innovation for ocean measurement at its heart.
"The vision to create a national centre 70 years ago was a powerful and enduring one. It recognises that ocean science needs sustained commitment, long-term vision and collaboration, and a strongly international perspective. Oceanographic science today owes much to the pioneering work of people at the NIO. Most importantly, research carried out at NIO/IOS provides the present National Oceanography Centre with a legacy of scientific and technological achievements of which it can rightly be proud."
Some of the key scientific and technological achievements of the NIO/IOS are listed below:
1955: The invention of the neutrally buoyant float, that for over 20 years was used to reveal many aspects of the oceans' circulation and was the forerunner of today's Argo floats
1960s–80s: Developing new methods of measuring surface waves and laying the foundations of the definition of the wave climate in northwest European waters
1950s–60s: Underpinning work on the definition of salinity and later running the Standard Seawater Service
1969: Pioneering the use of seagoing computers and satellite navigation
1970s: Pioneering the measurement and modelling of offshore tides and establishment of the Marine Information Advisory Service (precursor to BODC)
1970s–80s: Development and using of the GLORIA and TOBI towed sidescan sonars so as to map large areas of deep-ocean floor
1970s–80s: Improved understanding of the vertical profiles of biological communities, taxonomic groups and ranges of diel migration using multiple acoustically-controlled nets
1980s: Developing eddy-resolving models of the Southern Ocean and later of the global ocean
1980s: Benthic biology discoveries using time-lapse photography revealed seasonality of deep-sea detritus
1990s: Design and construction of the first Autosub autonomous vehicle
Further information on the history of the NIO can be found in the book 'Of Seas and Ships and Scientists', edited by Tony Laughton and colleagues, and published in 2010:
www.lutterworth.com/title/of-seas-ships-scientists
This year also sees the 100th anniversary of the Liverpool Tidal Institute, which is being marked with a celebratory event at NOC Liverpool on 11 May. Further details are available at
noc.ac.uk/news/ocean-tide-port-liverpool