7 July 2016 – Using a model to understand ocean acidification in the past and present
Speaker: Ross Whiteford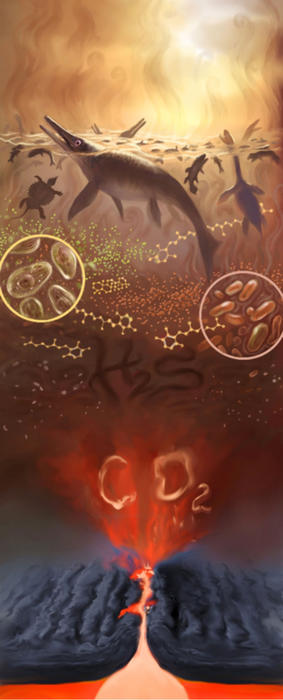 Ocean acidification occurs when carbon dioxide enters the ocean. This is currently happening due to human activities, and has happened in the past due to the eruption of large volumes of magma. To try and work out exactly what happened during one of these events, and how comparable this is to the modern day, we use a mathematical model of the carbon cycle.
Ross is a first year PhD Researcher at the University of Southampton, with thesis Title: 'Cenozoic CO2: Chance History or Inevitable Outcome?' – looking at how and why carbon dioxide has varied over the last 60 million years. Ross also studied for his undergraduate MSci Geology at Southampton.
PLEASE NOTE NEW CONTROL MEASURES FOR ENTERING DOCK GATE 4
Visiting the NOC: As the NOC is located within the Port of Southampton and entry is via Dock Gate 4 Port Security require all visitors bring along with them their confirmation ticket and a valid form of photographic ID (Driving License / Passport). The Port of Southampton is the Strategic Authority for the implementation of security within the port area where the NOC is located.
Click here to register for a ticket
Parking at NOC
There are a number of designated visitor parking spaces available at NOC, if these are full after 5pm please drive to the staff car parks barriers and access can be given by pressing the intercom button in the box next to the barrier, on requesting entry you will be asked for Name and Car Registration number and the barrier will be lifted.
Please do not park in areas not designated for parking and ensure roadways are kept clear.
If you haven't been to the Marine Life Talks before, subscribe to NOCMAIL to receive FREE email updates and alerts for future Marine Life Talks and other marine related topic.
Marine Life Talks
These talks are held on the first Thursday of each month at 7.30pm in the Henry Charnock Lecture Theatre, National Oceanography Centre. Please sign in outside the lecture theatre on level four.
All talks are free and open to members of the public.
These talks are accessible via stairs or a lift. Since the lift cannot be used in an emergency, evacuation of less able visitors is down the stairs via an evacuation chair. Please notify us in advance of the presence of a wheelchair user or anyone with access issues likely to require the use of an evacuation chair.
For further information, please contact: 
Eileen Crockford – etc@noc.ac.uk
 – Tel: 023 8059 6100 or subscribe to NOCMAIL to receive FREE email updates and alerts for future Marine Life Talks and other marine related topics.
 
Event dates:
Thursday 7 July 2016 -

19:30

to

21:00