5 September 2013 –
Robots in the Ocean: How technology is changing the way we measure our oceans
by Maaten Furlong
The world's oceans are vast, and the difficulty in measuring them remotely makes their study extremely challenging and costly. However, technology developments are enabling the creation of ocean going robots that are cheaper and more ubiquitous, and are thus starting to address this problem. These systems are also allowing the oceans to be studied in new ways, for example gathering data beneath ice shelves, and producing micro-bathymetric maps of the deep ocean. The National Oceanography Centre's Marine Robotic and Autonomous Systems (MARS) group is actively engaged in both development and operation of a wide range of robotic systems. These include, Autonomous Underwater Vehicles, sea going gliders, and the Isis ROV.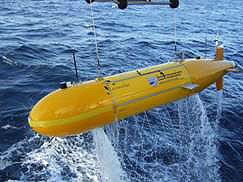 This presentation will describe the MARS fleet, outline the challenges in creating these robotic vehicles, and then highlighting some of the successes and failures we have had in operating them. The talk will conclude by looking to the future and how current vehicle research will impact the way oceanography is carried out in the future.
Dr Maaten Furlong BEng Mechanical Engineering (University of the West of England 1995), MSc Mechatronics (Lancaster 1997), EngD (Southampton University 2005) is Head of the Marine Autonomous and Robotic Systems group at NOC. He is a systems engineer with an interest in hydrodynamics and has worked on all aspects of the Autosub range of AUV developed at the National Oceanography Centre. He has participated in numerous sea trials and research cruises, and was part of the Autosub6000 team that located the world's deepest hydrothermal vent in the mid-Cayman rise.
Recordings of previous Marine Life Talks can be found on: http://www.youtube.com/user/NOCSnews
Future Marine Life Talk at the National Oceanography Centre:
3 October – Shipwrecks: the English climate and the English landscape – Serena Cant
7 November – title and speaker tbc
5 December – Britain's Atlantis – Dunwich, Suffolk, Coastal Erosion, Archaeology and Ultra-high resolution sonar imaging – Tim LeBas
Free admission – these talks are open to the public
The Marine Life Talks are held on the first Thursday of the month at 7.30pm, please arrive at 7.15pm.
Arrangements for wheelchairs must be made in advance. Unless it is possible to descend via the stairs in an emergency, access to upper floors cannot be permitted as lifts are automatically immobilised when the fire alarm is activated.
The National Oceanography Centre is reached via Dock Gate 4 (between Southampton's Town Quay and Ocean Village).
 
Event dates:
Thursday 5 September 2013 -

19:15

to

20:30