Marine Life Talk – 6 September 2012
The weird and wonderful life at the Mid-Atlantic ridge, 19.30pm at the National Oceanography Centre in Southampton –
by Dr Claudia Alt –
The Mid-Atlantic Ridge is a large mountain range in the middle of the Atlantic Ocean, creating the largest bathyal habitat (habitat encompassing depths between 200–3000 m water depth) in the Atlantic. With increased anthropogenic pressures on continental margins, it is important to understand ridge structures, as they might become the only bathyal areas relatively unaffected by pollution and waste disposal.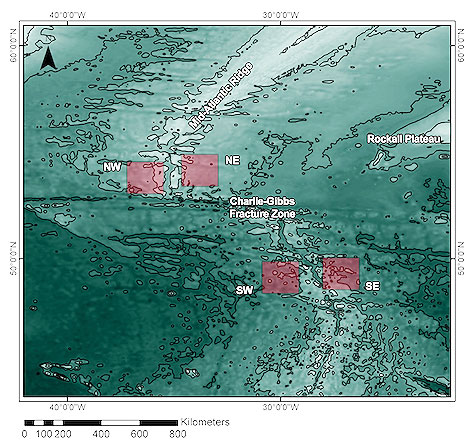 In her research Claudia will describe the benthic invertebrate fauna at four different sites, in the vicinity of the Charlie-Gibbs Fracture Zone. Her main focuses were the effects of the ridge and fracture zone on the dispersal of benthic invertebrate fauna, as well as the effects of varying food supply on the benthic megafauna. Claudia further investigated small-scale habitat variability and its effect on benthic invertebrates.
Claudia Alt is currently doing a postdoc looking at bioturbating fauna in the Solent. She has recently finished her PhD at the National Oceanography Centre, Southampton and will present the results of her 3.5-year PhD research. Her work contributed to the national, NERC funded, ECOMAR program, and the international MAR-ECO programme which formed a subgroup to the Census of Marine Life project.
Please note: this talk was due to be held last month but was postponed until September.
Recordings of previous Marine Life Talks can be found on YouTube: www.youtube.com/user/NOCSnews
Future Marine Life Talks at the National Oceanography Centre
04/10/12 t.b.c.
Free admission – these talks are open to the public
The Marine Life Talks are held on the first Thursday of the month at 7.30pm, please arrive at 7.15pm to be met in Reception.
Arrangements for wheelchairs must be made in advance. Unless it is possible to descend via the stairs in an emergency, access to upper floors cannot be permitted as lifts are automatically immobilised when the fire alarm is activated.
The National Oceanography Centre is reached via Dock Gate 4 (between Southampton's Town Quay and Ocean Village).
 
Event dates:
Thursday 6 September 2012 -

19:15

to

20:30